Komatsu WB91R/WB93R Workshop Manual
WB91-93_M_WEAM002304_WB91R_WB93R-2.pdf
Adobe Acrobat Document
10.1 MB
Komatsu Backhoe-Loader WB91R_flow-pressure summary Service Repair Manual
Komatsu Backhoe-Loader WB93R-5, WB97R-5 Workshop Manuals
Komatsu Backhoe-Loader WB91-93_M_WEAM002304_WB91R_WB93R-2 Service Repair Manual
Komatsu Backhoe-Loader WB91-93_S_webm000404_wb91_93r-2 Service Repair Manual
Komatsu Backhoe-Loader WB93R-5_M_WEAM006000_WB93R-5 Service Repair Manual
Komatsu Backhoe-Loader WB93R-5_S_WEBM005800_WB93R-5 Service Repair Manual
Komatsu Backhoe-Loader WB97R-5_S Service Repair Manual
Komatsu Backhoe-Loader WB97S-2_M_WEAM000704_WB97S-2 Service Repair Manual
Komatsu Backhoe-Loader WB97S-2_S_ Service Repair Manual
Komatsu Backhoe-Loader WB97S-5_S_ Service Repair Manual
Komatsu Bulldozer D31EX/D37EX/D39EX/ PX-21 Operation & Maintenance Manual
Komatsu Bulldozer D31EX-D37EX-D39EX, PX-
Adobe Acrobat Document
7.8 MB

Komatsu D155AX-5 Bulldozers Service Repair Manuals
Komatsu D155AX-5 Bulldozers Service Repa
compressed file archive
42.0 MB
Komatsu D37PX-21_M_EEAM024300_D31_37_39_EX_PX_21_0509 Bulldozers Service Repair Manuals
Komatsu D37PX-21_S_SEBM025607 Bulldozers Service Repair Manuals
Komatsu D55S_3_S_BE2 Bulldozers Service Repair Manuals
Komatsu D65EX,PX-15_69UP_M_ Bulldozers Service Repair Manuals
Komatsu d65ex15 shop manual Bulldozers Service Repair Manuals
Komatsu D65PX-12_M_SEAD001202 Bulldozers Service Repair Manuals
Komatsu D68-E8_M_0107154637_001 Bulldozers Service Repair Manuals
Komatsu D85EX-15_M_EEAM022804_D85EX_PX-15_0509 Bulldozers Service Repair Manuals
Komatsu D85EX-15_S_SEBM029101_D85EX-15 Bulldozers Service Repair Manuals
Komatsu D155A-1_S_SEBM0170A07R_0403 Bulldozers Service Repair Manuals
Komatsu D155AX-5_M_EEAM020802_D155AX-5 Bulldozers Service Repair Manuals
Komatsu D155AX-5_S_SEBM016204_%20D155AX-5_0407 Bulldozers Service Repair Manuals
Komatsu D155AX-5_S_SEBM016205_D155AX-5_0407 Bulldozers Service Repair Manuals
Komatsu D155AX-6_S_SEN00596-02 Bulldozers Service Repair Manuals
Komatsu D155AX-6-_M_0602 Bulldozers Service Repair Manuals
Komatsu D155AX-76UP_M_EEAM020802_D155AX-5 Bulldozers Service Repair Manuals
Komatsu Bulldozer D31EX-D37EX-D39EX, PX-21 Operation & Maintenance Manual
Komatsu Bulldozer D65E,P-12 D65EX,PX-12 Shop Manual
Komatsu D155AX-5 Bulldozers Service Repair Manuals
KOMATSU D355A-3 Service Manual
Komatsu d85ex15 tier2 Bulldozers Service Repair Manuals
Komatsu d155ax6 Bulldozers Service Repair Manual
Komatsu Galeo HM300-2 Service Manual
Komatsu Galeo HM350-1 Dump Truck Shop Manual
Komatsu HD320, 325-3 Dump Truck Shop Manual
Komatsu HD785-7 Service Manual
Komatsu HM400 Manual
SA6D125-2 engine Service Manual
SA6D125-2 engine Service Manual.pdf
Adobe Acrobat Document
20.5 MB
Komatsu 6D170 Service Manual
Komatsu 6D170 Service Manual.pdf
Adobe Acrobat Document
6.2 MB
Komatsu D155_S_ENGINE_SEBM022209_140-3%20SERIES_0410
Komatsu FAI_80_P_Transmission 80DT
Komatsu FAI_P_axle_Transmission
Komatsu FAI226_P_1_Transmission
Komatsu FAI226_P_Transmission
Komatsu 6D170 Service Manual
KOMATSU 155 4-series diesel engine Service Manual
Komatsu M11 Series Engines Shop Manual
Komatsu S4D102E-1_S_ engine Service Manual
Komatsu S4D106_S_WEBMTNV000 engine Service Manual
Komatsu S6D108_S_SEBE62210104_ENGINES_108_1_0504 Service Manual
Komatsu S6D170E-1_S_SEBES6161000 engine Service Manual
Komatsu SA6D102E-1 engine Service Manual
Komatsu SA6D102E-1_S_ engine Service Manual
Komatsu SA6D125-2 engine Service Manual
Komatsu Galeo PC14R-2 Hydraulic Excavator Operation & Maintenance Manual
Komatsu Galeo PC14R-2 Hydraulic Excavato
Adobe Acrobat Document
6.3 MB
Komatsu Galeo PC110R-1 Hydraulic Excavator Operation & Maintenance Manual
Komatsu Galeo PC110R-1 Hydraulic Excavat
Adobe Acrobat Document
5.6 MB
Instructions for installing a Graco automatic lubrication system on a Komatsu PC210-11, PC490-11 Excavator
Komatsu Excavator PC340, PC340LC-6K, PC340NLC-6k Shop Manual
Komatsu Galeo PC14R-2 Hydraulic Excavator Operation & Maintenance Manual
Komatsu Galeo PC14R-2 Service Manual
Komatsu Galeo PC16R-2 Hydraulic Excavator Operation & Maintenance Manual
Komatsu Galeo PC20MR-2 Hydraulic Excavator Operation & Maintenance Manual
Komatsu Galeo PC27MR-2, PC35MR-2 Hydraulic Excavator Operation & Maintenance Manual
Komatsu Galeo PC30MR-2, PC35MR-2 Hydraulic Excavator Operation & Maintenance Manual
Komatsu Galeo PC110R-1 Hydraulic Excavator Operation & Maintenance Manual
Komatsu PC12R-8, PC12R-8 HS, PC15R-8, PC15R-8 HS Hydraulic Excavator Service Manual
Komatsu PC12R-8, PC15R-8 Hydraulic Excavator Shop Manual
Komatsu PC20R-8, PC27R-8 Hydraulic Excavator Operation & Maintenance Manual_WEBM000201
Komatsu PC20R-8, PC27R-8 Hydraulic Excavator Operation & Maintenance Manual
Komatsu PC25-1 Operation & Maintenance Manual
Komatsu PC27MR-2,PC30MR-2, PC35MR-2, PC50MR-2 - Parts & Service Manuals
Komatsu PC27R-8 Operation & Maintenance Manual
Komatsu PC27R-8 Service Manual
Komatsu PC30-7 Operation & Maintenance Manual
Komatsu PC40-7 Operation & Maintenance Manual
Komatsu PC45-1 Operation & Maintenance Manual
Komatsu PC130-6K, PC150LGP-6K Hydraulic Excavator Service Manual
Komatsu PC130-6K, PC150LGP-6K Hydraulic Excavator Shop Manual
Komatsu PC130-7 Hydraulic Excavator Service Manual
Komatsu PC138US Operation & Maintenance Manual
Komatsu PC138USLC Operation & Maintenance Manual
Komatsu PC160-6K, PC180LC-6K, PC180NLC-6K, PC200EN-6K, PC200EL-6K Hydraulic Excavator Service Manual
Komatsu PC160-6K, PC180LC, PC180NLC-6K Hydraulic Excavator Service Manual
Komatsu PC180LC-3K, PC180LLC-3K, PC180NLC-3K Hydraulic Excavator Parts Book
Komatsu PC200,200LC-6, PC210,210LC-6 mighty, pc220, PC220LC - 6, PC230, PC230LC-6 mighty  Hydraulic Excavator Service Manuals
Komatsu PC210, 210LC-6K PC240LC, PC240NLC-6K Hydraulic Excavator Service Manual
Komatsu PC210, 210LC, 210NLC, PC240LC, 240NLC-7K Hydraulic Excavator Service Manual
Komatsu PC210, PC210LC-6K, PC240, PC240LC, PC240NLC-6k Hydraulic Excavator Service Manual
Komatsu PC350LC-8 Operation & Maintenance Manual
Komatsu PC350NLC-8 Operation & Maintenance Manual
Komatsu PC600 - Brochure
Komatsu PC800-8, PC800LC-8 Hydraulic Excavator
Komatsu PW130ES-6K Hydraulic Excavator Shop Manual
Komatsu PC05_P_filters
Komatsu PC05_P_track_idler
Komatsu PC210-240_M_EEAM006011_PC210-240_6K Excavator Service Manual
Komatsu PC210-240_M_UEAM001704_PC210_PC230_PC240-7K_0310 Excavator Service Manual
Komatsu PC210-240_M_UEAM003900_PC210_PC230_PC240-7K_0406 Excavator Service Manual
Komatsu PC210-240-7K_M_UEAM001704_PC210_PC230_PC240-7K_0310 Excavator Service Manual
Komatsu PC210-240-8K_M_UEAM004904_PC210_LC_NLC_PC230NHD_PC240LC_NLC-8_0609 Excavator Service Manual
Komatsu PC240-6K_S_eebm000505 Excavator Service Manual
Komatsu PC240-8K_M_UEAM004904_PC210_LC_NLC_PC230NHD_PC240LC_NLC-8_0609 Excavator Service Manual
Komatsu PC240-8K_S_UEN00084_01_PC210-230-240-8_0603 Excavator Service Manual
Komatsu PC290_290LC-8_S_ Excavator Service Manual
Komatsu PC290_M_UEAM001603_PC290-7K_0310 Excavator Service Manual
Komatsu PC290-6K_S_manual Excavator Service Manual
Komatsu PC290LC_NLC-6K_M_0606 Excavator Service Manual
Komatsu PC340_M_UEAM001505_PC340_LC_%20NLC_7K_0408 Excavator Service Manual
Komatsu pc340-6 Excavator Service Manual
Komatsu PC340-6K_M_eeam008000 Excavator Service Manual
Komatsu PC340-6K_S_eebm000804_pc340-LC-NLC-6k Excavator Service Manual
Komatsu PC340NLC-7K_S_0408 Excavator Service Manual
Komatsu PC340NLCD_P_UEPB005302reduced Excavator Service Manual
Komatsu PC450_LC_LCD-8_M_0703 Excavator Service Manual
Komatsu PC450-6_S_30000UP_SEBM014508 Excavator Service Manual
Komatsu PC450-6_S_32000UP_SEBM014508 Excavator Service Manual
Komatsu PC450LC-6_M_0609 Excavator Service Manual
Komatsu PC600LC-8_M_ Excavator Service Manual
Komatsu PC650-5_S_SEBM000607 Excavator Service Manual
Komatsu pc800 field assembly Excavator Service Manual
Komatsu PW130_S_UEBM001201_PW130ES-6k Excavator Service Manual
Komatsu PW130ES-6K_35000UP_M_0310 Excavator Service Manual
Komatsu PW150_M_UEAM000106_PW150ES-6K_0310 Excavator Service Manual
Komatsu PW160_M_UEAM003201_PC160-7_0411 Excavator Service Manual
Komatsu PW160-7E0_S_CSS-Net_2007-05-04 Excavator Service Manual
Komatsu PW160-7H_M_CSS-NET_2006-07 Excavator Service Manual
Komatsu PW160-7K_S_0411 Excavator Service Manual
Komatsu PW170_M_UEAM000502_PW170ES-6K Excavator Service Manual
Komatsu PW170_S_UEBM000801_PW170ES-6K Excavator Service Manual
Komatsu PW180-7E0_S_CSS-NET_23-01-2007 Excavator Service Manual
Komatsu PW200-7K_M_UEAM003700_PW200_PW220-7K_0406 Excavator Service Manual
Komatsu pc800-8 Excavator Service Manual
Komatsu pw160-7 german Excavator Service Manual
Komatsu PC340LC_340NLC-7_0605 Excavator Service Manual
Komatsu PC340LC_PC340NLC-7K40000 Excavator Service Manual
Komatsu PC290LC_NLC_7_0412 Excavator Service Manual
Komatsu SK714_M_WEAM003300_SK714-5 Service Manuals
Komatsu SK714_M_WEAM003301_SK714-5 Service Manuals
Komatsu SK714-815_S_WEBM003400_sk714_sk815-5 Service Manuals
Komatsu SK714-815_S_WEBM005500_SK714_SK815_SK815-520 turbo Service Manuals
Komatsu SK818_M_WEAM004502_SK818-5 Service Manuals
Komatsu SK818-820_S_WEBM005000_SK818_SK820-520 turbo Service Manuals
Komatsu SK820T_M_WEAM005102_SK820-520 turbo Service Manuals
Komatsu SK1020_M_WEAM005205_SK1020-520 turbo Service Manuals
In 1921, Komatsu was founded as a small construction machinery repair shop in the city of Komatsu on the west coast of Japan by the entrepreneur Meitaro Takeuchi (Maitaro Takeiichi). This was preceded by the organization in 1917 Komatsu Iron Works Division for the production of coal and mining equipment. To do this, engineers working in Komatsu, have been trained in Europe and the US, focusing on the international level. The company's foundation date is May 13, 1921, when Komatsu Iron Works separates from Takeuchi Mining Co., and becomes Komatsu Ltd.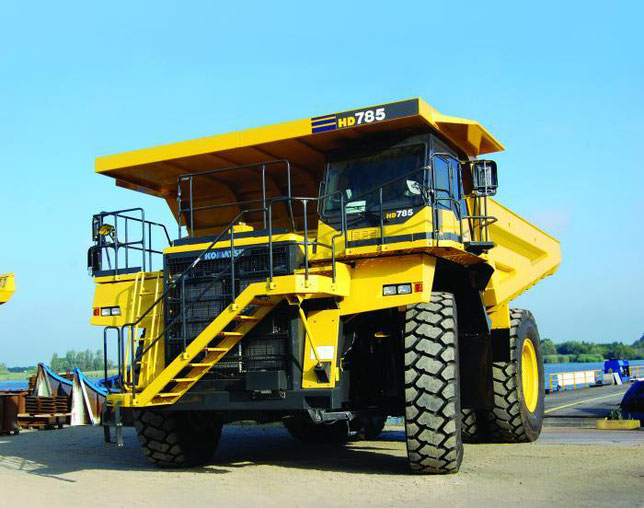 At first she was engaged in caterpillar tractors, bulldozers, cross-country vehicles, armored vehicles, hydraulic presses, loaders, cranes and excavators. Only in 1951, modeled on American cars "Euclid" (Euclid) was built the first 15-ton dump truck "HD150", very similar to the Soviet MAZ-525. Its production began in 1953 at the Kawasaki plant near Tokyo, which belonged to Ikegai. The development of the first model was in 1968 an 18-ton dump truck "HD180" with a body capacity of 10 m3, a 6-cylinder 12-liter Cummins engine in 230 hp, a mechanical 5-speed gearbox, a spring suspension And pneumatic drive of drum brakes.
In 1973, the first model of the world level appeared - a 32-ton dumper HD320 of its own design with a 6-cylinder Komatsu diesel engine (19.2 liters, 450 horsepower), a 6-speed hydromechanical box Torqflow, , Hydropneumatic suspension of wheels and a single cabin. Two years later, one of the largest dump trucks in the world was manufactured - a 120 ton "HD1200" with a Cummins V12 diesel engine (46.3 liters, 1200 hp), liquid-cooled disc brakes and a 51- Inch wheels.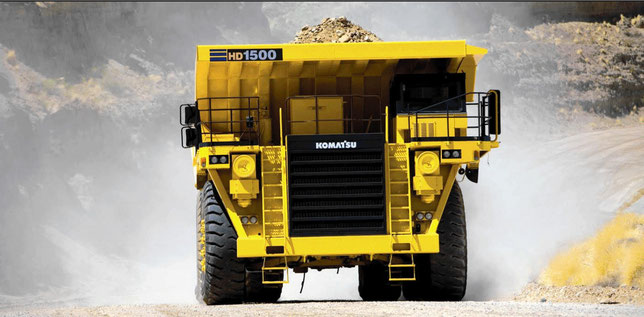 It was offered with an 8-speed hydromechanical gearbox or with an electric transmission and traction motor-wheels. Both machines became the basis of all subsequent gamut Komatsu. At the same time, the company began active international cooperation: in 1970 a branch was opened in the USA (since 1985 assembly of dump trucks was started there), in 1975 - the largest branch in Brazil, and since 1979, diesel electric dump trucks HD1200 (Up to the end of the XX century they were supplied with 1000 pieces).
In the 1980s, the Komatsu program increased to 8 base models from HD180 to HD785 with a payload capacity of 18-78 tons with its own in-line 6-cylinder engines or a V8 turbocharged diesel engine (12.2-30.9 liters ., 280-890 hp). The "HD1200" series with bodies of 46-70 m3 </ sup was offered in variants "HD1200-1" with electric or "HD1200M-1" with hydromechanical transmission and V12 diesels (1145-1290 hp). The 160-ton "HD1600" program with a total mass of 267.5 tons with a 90-cubic body, a diesel engine "Cummins" V16 (50.3 liters, 1496 hp) and a semi-automatic 7-speed gearbox closed the program.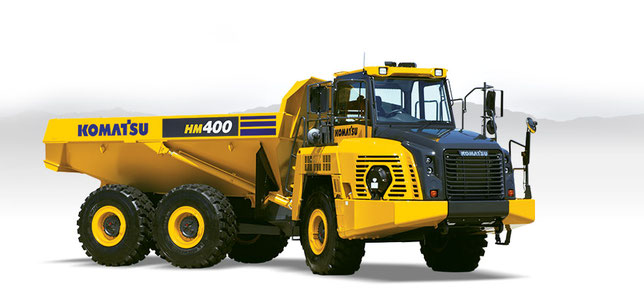 In the early 90's, the program included 18 models from "HD205" to "HD1600M" with a carrying capacity of 20-160 tons. Specially for Russia, a 136-ton diesel-electric version of the "HD1200-1D" with a capacity of 1350 horsepower was created to work in deep quarries. Since 1987, 3-axle construction dump-trucks "НА250" and "НА270" (6 × 6) with a carrying capacity of 25-27 tons were produced with articulated frame and diesel engine with a capacity of 243 hp, created together with the Norwegian company "Moxi" (Mohu). On the basis of dump trucks, a 1000-strong truck tractor was built to operate as part of the "HD1400" road train with a 150-ton semi-trailer with bottom unloading.
Komatsu also produced several special HS chassis for industrial use with a payload capacity of 20-55 tons, airfield tractors "WT", and also participated in the creation of "KNWF" (6 × 6) timber carriers for countries of the councils. In 1988, Komatsu began cooperation with the American company Dresser, which shortly before bought back the production of Haulpak dump trucks from VABCO (WABCO) from Peoria. Since January 1996, it became part of Komatsu and became known as Komatsu America International Co. (Komatsu America International Co.).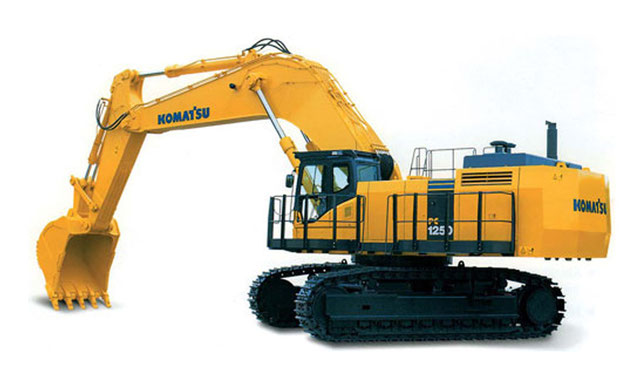 So, to the very extensive program, the whole range of Holpec cars with a lifting capacity of 32-220 tons with hydromechanical and electric transmission (models from 140M to 830E) was added, renamed Komatsu Holpak. In 1996, the production of one of the world's largest dump trucks "930E" with a payload capacity of 310 tons started with a diesel engine MTU (MTU) V16 with a capacity of 2,686 hp. And an electric transmission. By the end of the 20th century, Komatsu had become a transnational concern for the production of road construction equipment, heavy dump trucks and diesel engines with a total of about 30,000 employees.